Administrator Manual
3. Balance
In this chapter: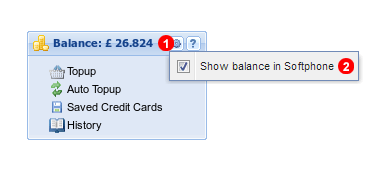 Figure 3.1 Balance panel.
All our services are pre-paid, so you need to make sure you have enough credit on your account to make outbound calls to chargeable destinations.
Top Up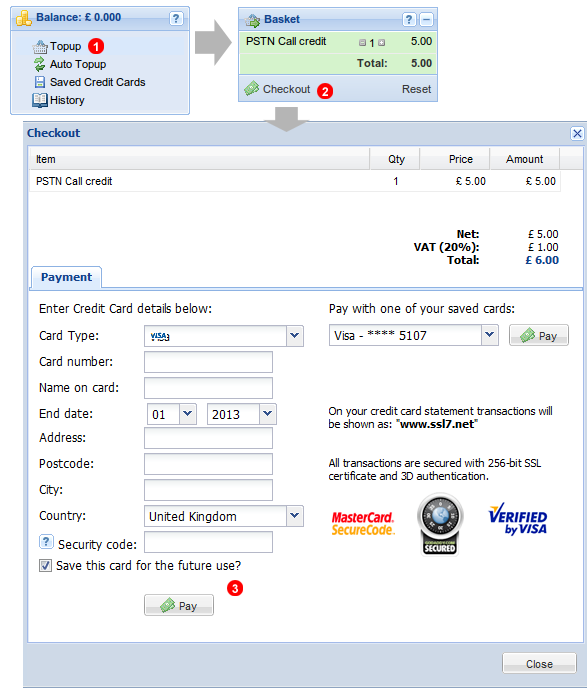 Figure 3.2 Balance Top Up.
To increase balance of your account:
Click Top Up link in Balance panel and PSTN Call credits will be added to your Basket. You can use [+] and [-] buttons to increase or decrease amount of purchased credits.
Click Checkout button to complete your transaction.
Enter your Credit Card details and click Pay button.
Please note: before making your first payment please download our Softphone and make a Test Call by dialling 123 - the system will verify if the country where your call originated is the same as billing address of your credit card. If for some reason you need to use a credit card issued in a different country where you are currently located, please open a Support Ticket and mention your location and country of origin of credit card you wish to use.
Auto Top Up
In order to ensure your account is always in credit you can enabled Auto Top Up feature. Once your account reaches pre-defined level, it will be automatically topped up using one of your saved credit cards. This is a convenient way of making sure your account balance never reaches zero.
Activate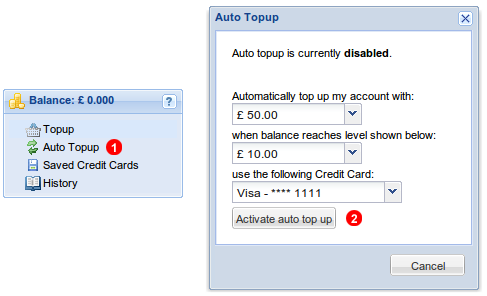 Figure 3.3 Activate auto Top Up.
To activate Auto Top Up feature:
Click Auto Top Up link in Balance panel.
Select Top Up amount and desired auto Top Up level. Finally click Activate auto Top Up button.
Dectivate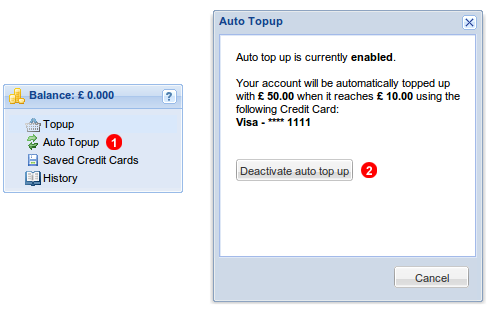 Figure 3.4 Deactivate auto Top Up.
To deactivate Auto Top Up feature:
Click Auto Top Up link in Balance panel.
Click Deactivate auto Top Up button.
Saved Credit Cards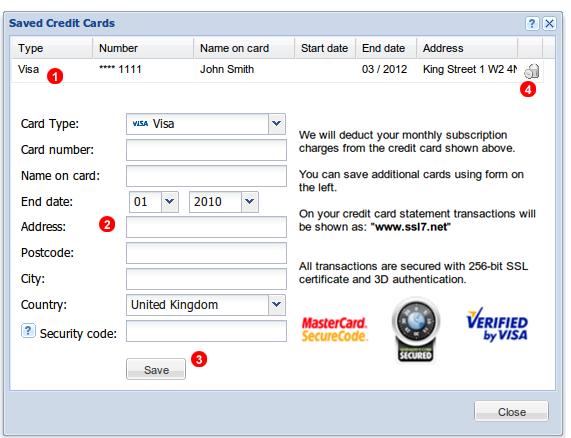 Figure 3.5 Saved Credit Cards window.
In order to pay for monthly subscription fees or use Auto Top Up feature, you need to save details of at least one credit card. To save credit card details, click

link in Balance panel. Next fill all fields in the form (2) and click Save button (3). If you no longer wish to use particular credit card for your payments, use delete button (4) to remove it from the system.
History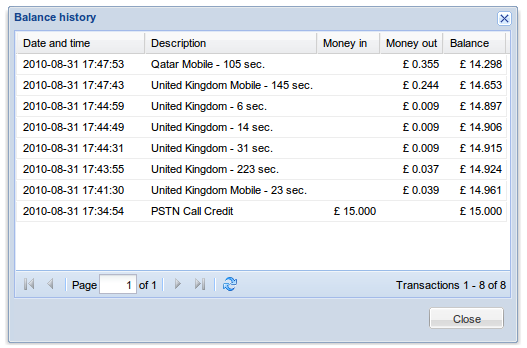 Figure 3.6 Balance history.
To view your account statement click History link in Balance panel.