Business Phone Service - Frequently Asked Questions
How does VoIPdito service works?
When you subscribe to our service you can:
(1)

make (and receive) free Internet calls to other networks, full list of all Internet telephony networks can be found here

(2)

call any land line or mobile phone at very low rates

(3)

receive calls from traditional telephone network

(4)

send text messages (SMS) to mobiles world wide for 8 ¢ per message only

(5)

receive faxes to your email address free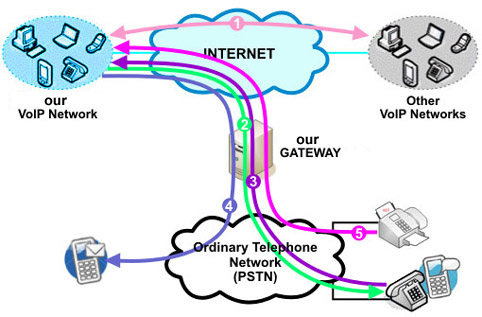 Why should I be using Internet phone?
Thanks to Internet phone you can for example:
use the same phone number wherever you are (from home, your office or abroad)
call other Internet telephony users free
can have as many inbound numbers as you like, from as many countries as you like
can have free voicemail which also notifies you of new e-mail messages
minimize your spending on phone calls
OK, I want to start using Internet phone...
This is very simple, all you need is:
Broadband connection to the Internet. (If you are reading this, you most likely have already got one)
Create your account with us.
Download a free softphone or - better still, purchase your own internet phone from us and keep it on your desk. This is more convenient and can be used in the same way that you use an ordinary phone.
How am I able to get all my Internet calls absolutely free?
Well, first of all you are our valued customer; and although we use our servers and technology to connect and transmit your calls over the internet we do not pay an outside telecommunications provider. You are also responsible for paying for your broadband connection, and so we are able at this time to provide the service free to our customers.
I understand my Internet calls are free, but what about calls to landlines and mobiles?
You are absolutely right. All Internet calls are free-and the good news is that landline and mobile phone calls are a fraction of the usual cost. The minimum call to a landline is just 1p. you can call the US for 1p per minute. Our full price list is available here.
Do I need to sign a contract?
No. There in no contract to sign and it costs you nothing to sign up here. Create your account with us and receive 100 minutes call time free.
Do I have to pay my bills monthly?
No. You must top-up before making calls. There is no monthly charge for our basic service and you are issued free with our UK non-geographical 0845 number. However, If you want an incoming number in one of our geographical locations there is a monthly line rental.
Is my voicemail also FREE?
Yes. When you open your account you will automatically have FREE voicemail. This means your callers can leave you a message which you can access directly from your phone or via our web page.
What about the quality of my telephone calls?
The quality of your calls through Internet telephony technology will be the same as that of your traditional phone but you need a stable internet connection.
What kind of Internet connection do I need?
Any broadband connection is sufficient.
What inbound number can I have? And how much does it cost?
You can subscribe to a local number in any of 3000 cities around the world from as low as US$ 0.00 monthly fee. See our full list of International DDI numbers we can provide.
I have already got a landline number, can I use it with my Internet phone?
This is possible. Send your request to us along with the number you wish to transfer. We will check this and reply to you within the next 3 working days.
How much does it cost to call my inbound number?
Your inbound number will work exactly the same as your traditional landline number. It doesn't cost your callers any more to call you.
Will my phone work when there is a power cut?
No. Contrary to the traditional phone, Internet phone will not work without power, as it depends on Internet connection.
Are there any numbers I can not call on Internet phone?
In general you can dial any landline or mobile number around the world. But note that Emergency numbers such as 999 may not available from your Internet phone. In case of emergency you need to use your mobile.
Can I send text messages (SMS) from your website?
Yes. You will be able to send test messages (SMS) to any mobile in the World for 8 ¢ only as soon as you sign up.
What is Fax to email service?
You will get a free UK fax number when anyone can send fax to, and you will receive it as PDF file to your email address. You can also read your faxes on our website.
What codecs does VoIPdito Hosted PBX support?
VoIPdito Hosted PBX currently supports the following codecs:
ALAW (G711)
ULAW (G711)
GSM
G722
G723
G726
speex
Still can't find answer to you question?
Send us your question using the form below...
All fields marked with red asterisk * are mandatory, please fill them out.